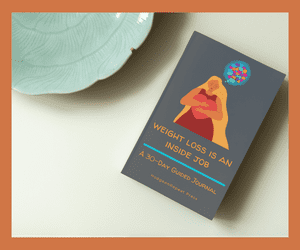 Whether you are just starting to journal, or you write everyday, these sample pages from Weight-Loss is an Inside Job will inspire you from the inside out. Journaling leads to self-reflection, the important missing ingredient in new health and fitness plans.
Get started today. I promise that short periods of daily writing (5-15 minutes) will help you stay motivated, examine negative patterns, check in with your emotions and celebrate small wins.
Happy journaling (and good luck with your health and fitness goals)!